Chapter 1 (2012)
A new superhero has arisen in India in the wake of the brutal gang rape on a Delhi bus: Priya, a mortal woman who is raped herself, but who fights back against sexual violence with the help of the goddess Parvati and a tiger.

— The Guardian
Chapter 2 (2016)
About the project
The idea to create "Priya's Shakti" came after the horrible gang rape that happened on a bus in New Delhi in 2012. There was an enormous outcry in particular from young adults and teenagers — both women and men. Many people felt a cultural shift has to happen especially views towards the role of women in modern society. Deep-rooted patriarchal views needed to be challenged. As a result, Priya's Shakti's team created a new Indian "superhero" – Priya, who is a rape survivor and is able to motivate people to change through the power of persuasion. The story, engaging artwork, and interactive technology is perfectly designed for teenagers and students.
The comic book uses augmented reality to take readers beyond the story. Using a free app, you can scan the pages to view animation, real-life stories, films, and other interactive elements pop-out of the pages. The comic book is an ideal way to engage teenagers and students to discuss difficult and complex topics. And the comic book is free to download.
The comic book and character became an immediate hit with over 500 news stories worldwide and nearly 500,000 digital downloads and over 20,000 printed copies distributed in India. The project is being funded by the World Bank. UN Women honored the project as a "gender equality champion.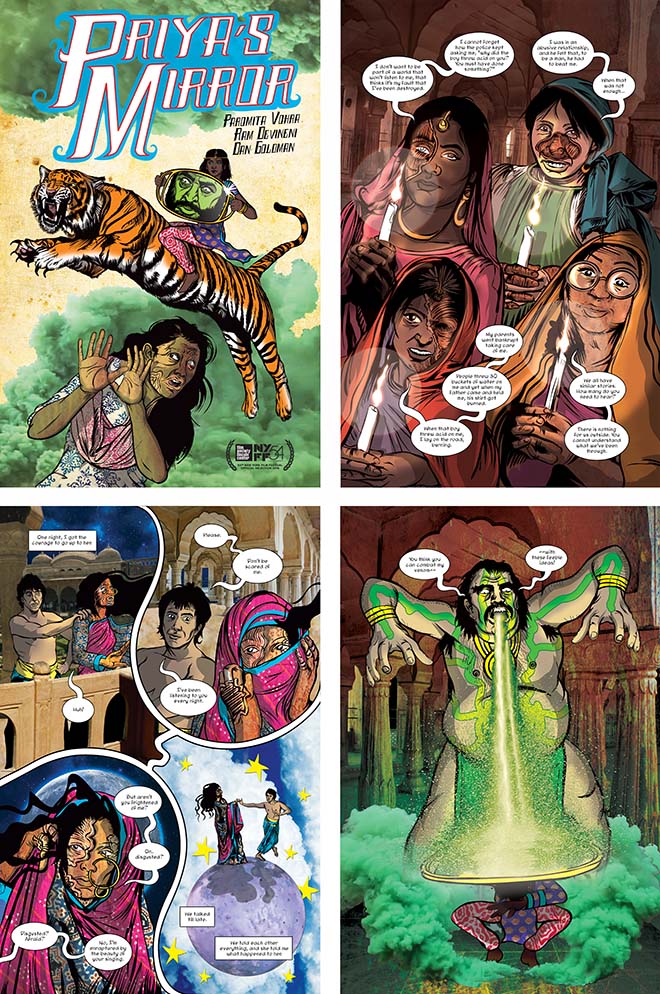 A woman vanquishes her fears and dismisses the ridicule, speaking out as a survivor and becoming an inspiration to thousands of women in India who have faced the same ordeal — a modern-day female superhero. — Vice News
Interview
Awards & Nominations
Tribeca Film Institute New Media Fund – Ford Foundation
Jury Prize – FilmGate Miami
Gender Equality Champion – UN Women
Nominated Interactive Award – Sheffield Doc Fest
Honorable Mention – Passion for Freedom Festival
Credits
Producer & Co-Creator – Ram Devineni
Artist & Co-Creator – Dan Goldman
Co-Writer – Paromita Vohra
Co-Producer – Shubra Prakash
Advisor – Ruchira Gupta
Co-Writer – Vikas Menon
Impact Strategist – Lina Srivastava
Creators bios
Ram Devineni is a filmmaker, publisher and founder of Rattapallax films and magazine based in New York City, Sao Paulo and New Delhi. He produced, edited and directed the feature documentary The Human Tower, which was shot in India, Chile, and Spain. Recently, he produced The Russian Woodpecker, which won the Grand Jury Prize at the 2015 Sundance Film Festival. His most recent film, The Karma Killings, about the Nithari serial killings is out exclusively on Netflix worldwide.
Dan Goldman writes graphic novels and comics for such companies as AMC Television, Random House, Time Magazine, Entertainment Weekly and New York Magazine. Dan also serves as Second Screen Experience Architect and Transmedia on AMC Television's flagship original series Breaking Bad, and other shows. His 2006 web-comic, Shooting War earned it an Eisner Award nomination for Best Digital Comic.
Paromita Vohra is an award-winning filmmaker, writer and teacher. Her path-breaking films includeUnlimited Girls (on feminism in India), Q2P (on toilets, gender and the city), and others. She has written the internationally released Pakistani film, Khamosh Pani (Silent Waters) and several documentaries. She currently writes two popular newspaper columns one of cultural commentary and one on modern love.