Augmented reality comic about a group of young misfits that must band together to escape the Omni World Corporation and its nefarious invention, the Dead Net.
Story
Welcome to the future. The year is 2088. Humanity is divided between two worlds. The rich live inside the "Dead Net," a simulated virtual reality where the minds of the dead manipulate the world of the living. The poor live on wasteland Earth inside "The Body Electric," a sprawling factory slum where humans are grown as slaves to the Omni World Corporation. The story follows a group on young desert punks. With their bodies and minds legally owned by the Omni Corporation the Gutter Punks and Pixel Kids have nothing to lose but one another.
Comic Book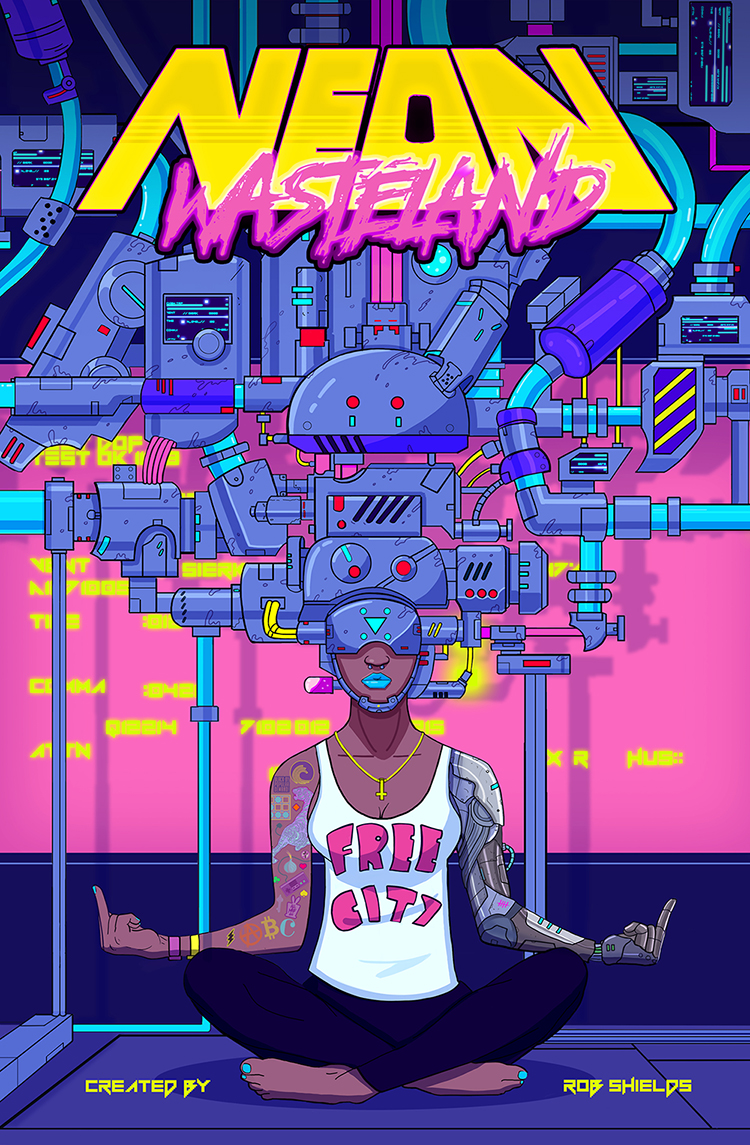 Neon Wasteland takes place over 10 chapters. Each volume of the comic had 2 chapters. Each chapter of the book is entirely readable without the AR functionality. The augmented reality component of the book expands the lore of the story and gives clues to future chapters, but does not hide any key plot elements. Details about Volume 2 will be announced in early 2020. There is also a tie in Neon Wasteland Video game that will take place across 5 episodes. More details about Episode 1 will also be released early 2020.
How it works
The Neon Wasteland Augmented Reality (AR) app allows you to bring every panel of this comic to life. All you need to do is download the free Neon Wasteland AR app (links in top right corner) and point it at your Neon Wasteland comic book. You can also read it like a traditional comic book. Neon Wasteland is designed to work both ways, so no matter how you want to read it you will still experience the main story line without missing a beat. The AR app unlocks alternate endings, you'll interact with characters in the book and enter the "Dead Net" itself to learn the ominous truth of a world where humans and computers have become one.
Page Preview
Order Neon Wasteland here
Credits
Editor. writer, artist, animator, and programmer: Rob Shields
Rob Shields is a multimedia artist and independent game developer. When not working on Neon Wasteland Rob works as an illustrator, animator, comic artist and app developer for various clients. He specialises in augmented reality app development and game development with an emphasis on interactive storytelling. He also teaches concept art and game design at local Philadelphia Universities. His aesthetic is inspired by 1980s Japanese cyberpunk, 80s and 90s brain freeze, graffiti, video games, comic books, augmented reality and everyone's best friend, the Internet.